*** Stars represent our board members that are veterans ***
DeeDe Baker, CPDT-KA
Founder, Executive Director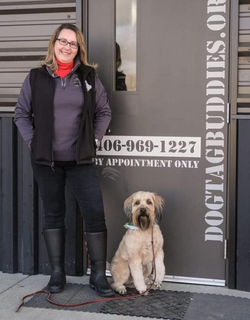 Through her tenacity and passion, DeeDe has grown Dog Tag Buddies from a kitchen table conversation to the organization it is today. She is the wife of a combat veteran with 21 years of service and founded Dog Tag Buddies after seeing the relief their own dogs brought her husband when he returned from Operation Iraqi Freedom in 2005. Her love of dogs and desire to help Montana veterans drives her passion for Dog Tag Buddies and has become her true calling in life.
In 2018, after three years splitting her time between Dog Tag Buddies and her career of over twenty-one years with the State of Montana, DeeDe now fully dedicates her time to the organization. She spent the bulk of her career at the Montana Department of Labor as an unemployment investigator and adjudicator, eventually retiring as a business and security analyst. She takes a hands-on approach to driving the growth of the organization and works directly with program participants, trainers, staff, volunteers, and our Board of Directors to achieve her goals. For her, being able to assist veterans and rescue dogs brings together the best of both worlds, especially knowing she is giving two lives a second chance.
Credentials:
Certified Trauma Informed Care Trainer
Certified Question Persuade Refer (QPR) Suicide Prevention Instructor
Certified Council for Professional Dog Trainers – Certified Professional Dog Trainer – Knowledge Assessed
American Kennel Club Canine Good Citizen Evaluator
American Kennel Club Level 1 AKC Fit Dog Instructor
International Association of Canine Professionals – Professional Member
International Association of Canine Professionals – Dog Trainer Foundation certified
Completed This Able Veteran PTSD Essentials Service Dog Trainer Academy 6/2019
Completed This Able Veteran PTSD Service Dog Trainers Academy 10/2019
Canine CPR Certified
Human CPR Certified
Steve Bertrand
Board President
---
Steve served in the Army from 1997-2001. After the Army, he received his degree in Cisco Systems from MSU-B. From 2004 to current, he has helped many different IT positions. Currently, he is the Senior IT site leader/Senior Analyst for BMO-Harris Bank in Billings, MT. He joined the Dog Tag Buddies because of his great passion for helping both veterans and animals.
Quint Nyman
Board Vice President
---
Quint is a native Montanan and grew up in Anaconda. After graduating from high school in the mid 80's, Quint began his studies at Montana Tech and quickly realized school was not the next step for him. He joined the Marine Corps in the Spring of 1985. Quint believes his time as an ambitious crewman in Okinawa and Camp Pendleton provided critical opportunities that helped shape him into the person he is today. Following his service, Quint worked for the Montana DNRC as a wildland firefighter on an initial attack engine. He also enrolled at The University of Montana, graduating with a degree in English and Secondary Education.
In 1999, Quint began work for the former Montana Public Employees Association as a field representative and then as Assistant Director. IN 2006, he was hired as Executive Director and served in this role until 2018 when the organization merged with another union. Quint remains Deputy Executive Director, and is responsible for supervision of all field operations.
Quint has been happily married to his wife, Jill, for 21 years, and together they have three wonderful daughters and three amazing dogs. He spends his summer weekends hiking into mountain lakes to fish and, being a true Montanan, spends the fall in search of elk with a bow or rifle.
When asked to serve on the board, Quint responded: "I believe I owe it to my fellow veterans who have gone in harm's way and been fortunate enough to return home. My time in the military was safe by comparison. I can say that I have all of my parts and am whole. Veterans over the course of the last 20+ years do not often find themselves in that position. I firmly believe that because I can, I am obligated to 'cover their six' and support them as they work to heal and continue on with their lives."
Kati Grove
Operations Director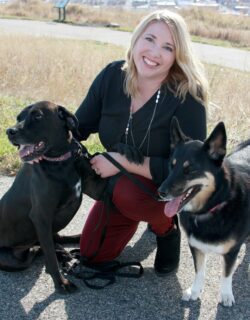 Kati Grove has a Bachelor's degree in Business Administration and over 9 years experience in Banking Operations, including 3 years of Operations Management and 3 years of Project Management experience. She is also trained in Lean Six Sigma methodology and is a graduate of the SWGSB Bank Operations Institute.
Kati is the daughter of DeeDe Baker, our founder and executive director, and shares the same passion for helping our veterans and rescuing dogs. She has been involved in supporting animal rescues for several years, and has 3 rescue dogs and a cat of her own.
Kati was selected as one of the 2019 40 Under 40 award recipients by the Billings Gazette and brings a unique business and project management perspective to the operations of Dog Tag Buddies.
Dave Powell
Quality Assurance Manager, Advisory Member
---
Dave Powell is a retired Army Colonel with 28 years of experience at increasing levels of responsibility and authority from Platoon-level to Department of the Army, including support to Presidential Commissions. He served in the Army from Vietnam to Iraq eras. He has extensive background in the application of management techniques, re-engineering/efficiencies processes, resource management, government contracts, operations research and systems analysis (ORSA), logistics systems (field to theater and industrial base), acquisition, and installation/facility management. He holds extensive knowledge in the Department of Defense (DOD) and Army (DA) Planning, Programming, Budget Management, and Execution System (PPBES), National/DOD/DA/AMC Base Realignment and Closure (BRAC), major ORSA studies for 3/4 star-level decisions, Army Industrial Base, and development of the first major CORPS simulations with logistics incorporated. He received numerous awards, including the Distinguished Service Medal (DSM) and three Legion of Merits (LM).
He has 19 years of civilian experience, including working as Vice President of Operations of a major corporation, as well as COO, CFO, and Director of Operations at numerous smaller companies. His responsibilities included overall management, project management, subject matter expert, consultations for general office and Secretariat-level DOD officials. Areas of support included major acquisition and development projects (ex: Hybrid-Electric heavy trucks, mobile critical part manufacturing), BRAC implementation, analytical studies, major command downsizing, retrograde/recapitulation of major combat equipment from Iraq/Afghanistan, NASA Space Station support, strategic planning, budget management, and support to non-profit organizations. He also volunteers for several local organizations who serve veterans and/or animals.
His desire to support veterans stems from his own service history of taking care of his people, as well as from his immediate family history. His dad was a career Army enlisted officer who served during WWII in China behind enemy lines and G-4 (Logistics Office) for the 1st Infantry in Vietnam. His uncle was enlisted in WWII, served in D-Day and Battle of the Bulge. His other uncle was a career enlisted soldier during WWII in the Philippines, was in the Baton Death March, and was a Prisoner of War in the Philippines and Japan. His son served in Desert Storm with the 101st ABD. Many of these relatives suffered from PTS without treatment or support, although family dogs played a big role in their resiliency. These family members served their country for a combined 92 years.
His education includes various advanced degrees and certifications in Business, Industrial Engineering, International Studies, and Public Administration.
Darin Lonski
Board Member
Darin has a degree in Business, with focuses on Management and Information Systems. He rescued 3 dogs, and does a personal fundraiser for Yellowstone Valley Animal Shelter and Dog Tag Buddies. His father is a retired Marine, his brother was in the Navy, and all seven of his uncles served too. He has worked in the financial industry for 15 years. Darin has a passion for dogs and his life revolves around his Boxers.
Amanda Lackman
Board Member
There are many in Amanda's family that served our country over the years. Her father is a former Marine, who while serving in Vietnam, was awarded a Purple Heart. His service and bravery, along with that of many others before and since, is something that should forever be honored. Amanda has a great admiration for all service men and women, and she has a great love of animals. Amanda feels honored to be a part of an organization that serves our country's heroes and furry friends needing a home. She is an alumni of the University of Montana and holds a B.A in Journalism with an emphasis on Photojournalism. Currently a Bank System Administrator for First Interstate Bank and has been with the company for nearly 13 years.
Alexander Roth
Board Member
---
Alexander Roth was attending Montana State University when the September 11th attacks occurred. After the attacks he enlisted in the Marine Corps as an infantryman, wherein he served with 4th Reconnaissance Bn. and Antiterrorism Bn. In 2005, he deployed to Iraq with 3/25, a unit that suffered heavy casualties. Upon returning and dropping to reserve status, Alexander completed his college education at MSU-Billings in 2007. In 2007, Alexander also began working in law enforcement with Stillwater County Sheriff's Department. In 2010, Alexander left Montana to attend law school at the University of Miami, School of Law, where he was very active with veteran organizations. Upon graduating he returned home to Montana and set up his own law office, focusing on criminal defense. Alexander has grown up with pets and knows firsthand how much comfort and support pets can provide veterans. Visiting his office or seeing him around town, you'll often find that Alexander is accompanied by Leo, his toy Australian Shepard.
Mike McManus
Board Member
---
Mike is originally from Miles City and returned to Billings, Montana in June of 2020 with his wife. Prior to the move, he served 10 years as the County of Ventura (CA) – Veteran Services Officer (CVSO). The CVSO is responsible for managing the Veteran Services Office (VSO) and its staff. The primary mission of the VSO is connecting veterans, their dependents, and survivors with federal and state VA benefits and local services, as well as advocating on behalf of Ventura County's 39,000 veterans, 10,000 military personnel, and their families.
Prior to assuming CVSO duties, Mike worked three years in the private sector for Baxter International in their Thousand Oaks BioScience facility as their training & development manager. Before working in the private sector, Mike held a variety of leadership positions in the Air Force, first in fuels management/logistics planning and the last seven years as a First Sergeant (E-8) overseeing all enlisted personnel within his units. He had general supervision over all enlisted personnel and was responsible for advising the unit commander on all issues which affected those personnel, whether stateside or deployed.
During Mike's military service, he deployed for three major operations: to USAF in Europe Headquarters Staff for ALLIED FORCE in 1999, to Kuwait for SOUTHERN WATCH in 2002, and to Kuwait for IRAQI FREEDOM in 2003. He was also stationed in Kunsan AB, Republic of South Korea from August 1996 – February 1998. He ultimately retired after 20 years of service, with his last assignment as the First Sergeant for the Air Force Detachment at Naval Base Ventura County – Port Hueneme. Among his military awards and decorations are the Meritorious Service Medal with two oak leaf clusters, the Air Force Commendation Medal with four oak leaf clusters, the Air Force Outstanding Unit Award with Valor Device with three oak leaf clusters, the Armed Forces Expeditionary Medal, the Global War on Terrorism Expeditionary Medal, and the NATO Medal.
Mike has served as first vice president of the CA Association of County Veteran Service Officers and was the Director of the Veteran Collaborative of Ventura County. He has testified twice at field hearings before the House Veterans' Affairs Subcommittee on Veterans' Health and was selected Veteran of the Year 2018 by CA Assembly Member Jacqui Irwin, Chairperson of the CA Assembly Veterans' Affairs Committee. Mike holds a Bachelors of Science degree in Business Management.
Melissa Lyon
Board Member
Melissa is a Montana native with leadership experience in both the financial services industry and healthcare services. Her diverse career in management, sales, account management, , leadership coaching and benefit administration led to her ultimate career passion of helping organizations succeed by applying her skills in HR strategic management.
Melissa has a devotion to both veterans and animals. She has rescued basset hounds for over 20 years and enjoys volunteering for surrounding area basset rescues where she has been a foster mom (and failure), transport to forever homes, and home inspector. With Melissa's husband's position as a Battalion Chief with the Billings Fire Department, she has the privilege of being surrounded by military and law enforcement professionals. She appreciates the sacrifices that military families make, born when her father served in the Air Force while stationed in West Germany and then later at Malmstrom Air Force Base in Great Falls. Her brother is also a retired Lieutenant Commander for the Coast Guard.