Training at Both Ends of the Leash
To say we train dogs would be only part of the story. We train people to train dogs, which is an entirely different challenge. It requires our trainers to have the ability to work not only with people, but veterans with hidden injuries. These injuries typically affect communication skills, short-term memory, the ability to easily complete multi-step tasks, and reaction time.
Our team is required to complete tailored trainings that address how to successfully work with program participants, including PsychArmor, Trauma Informed Care, and QPR Suicide Prevention. While we strive to provide a consistent experience for all our participants across the state, we also recognize that each person has their own learning style, personality, and challenges from their disabilities. Our trainers become coaches, mentors, and innovators as they look for new ways to help a team learn the skills and tasks they need to be successful. But most importantly, they must be committed to our clients and the mission of Dog Tag Buddies. Our trainers are at the heart and soul of our organization, and they go above and beyond each day to help this organization continue to move forward. We couldn't ask for a better team to do this job!
DeeDe Baker, CPDT-KA
Founder, Executive Director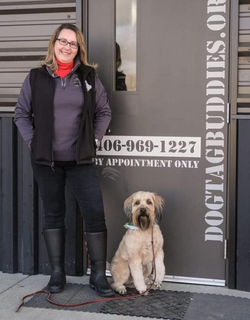 Through her tenacity and passion, DeeDe has grown Dog Tag Buddies from a kitchen table conversation to the organization it is today. She is the wife of a combat veteran with 21 years of service and founded Dog Tag Buddies after seeing the relief their own dogs brought her husband when he returned from Operation Iraqi Freedom in 2005. Her love of dogs and desire to help Montana veterans drives her passion for Dog Tag Buddies and has become her true calling in life.
In 2018, after three years splitting her time between Dog Tag Buddies and her career of over twenty-one years with the State of Montana, DeeDe now fully dedicates her time to the organization. She spent the bulk of her career at the Montana Department of Labor as an unemployment investigator and adjudicator, eventually retiring as a business and security analyst. She takes a hands-on approach to driving the growth of the organization and works directly with program participants, trainers, staff, volunteers, and our Board of Directors to achieve her goals. For her, being able to assist veterans and rescue dogs brings together the best of both worlds, especially knowing she is giving two lives a second chance.
Credentials:
Certified Trauma Informed Care Trainer
Certified Question Persuade Refer (QPR) Suicide Prevention Instructor
Certified Council for Professional Dog Trainers – Certified Professional Dog Trainer – Knowledge Assessed
American Kennel Club Canine Good Citizen Evaluator
American Kennel Club Level 1 AKC Fit Dog Instructor
International Association of Canine Professionals – Professional Member
International Association of Canine Professionals – Dog Trainer Foundation certified
Completed This Able Veteran PTSD Essentials Service Dog Trainer Academy 6/2019
Completed This Able Veteran PTSD Service Dog Trainers Academy 10/2019
Canine CPR Certified
Human CPR Certified
Kati Grove
Operations Director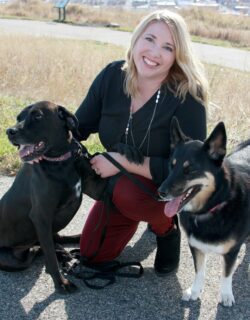 Kati Grove has a Bachelor's degree in Business Administration and over 9 years experience in Banking Operations, including 3 years of Operations Management and 3 years of Project Management experience. She is also trained in Lean Six Sigma methodology and is a graduate of the SWGSB Bank Operations Institute.
Kati is the daughter of DeeDe Baker, our founder and executive director, and shares the same passion for helping our veterans and rescuing dogs. She has been involved in supporting animal rescues for several years, and has 3 rescue dogs and a cat of her own.
Kati was selected as one of the 2019 40 Under 40 award recipients by the Billings Gazette and brings a unique business and project management perspective to the operations of Dog Tag Buddies.
Bonnie Lusby
Lead Trainer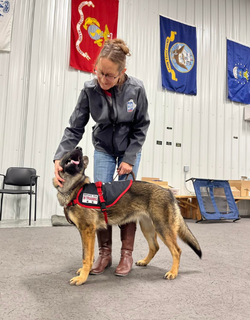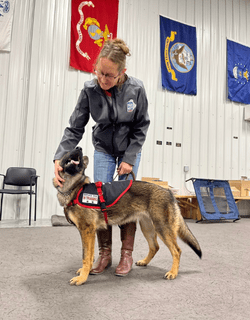 ---
Bonnie Lusby served as a member in the 82nd Airborne from 1979 to 1983. Since her time in the military, Bonnie has dedicated her time to working with dogs, from grooming to working in a veterinary clinic and training to showing in obedience, where her dog earned Dog of the Year.
In the past ten years, Bonnie has expanded her reach in terms of training experience. In 2005, she became a trainer for and handler of narcotic K9s. She was certified with NPWDA and still has her DEA license. She's conducted trainings specialized in obedience, nose work, shed hunts and behavioral issues.
Bonnie began running the Prison Paws program and built it up to 35 trainers. She is also a certified AKC Canine Good Citizen evaluator. Bonnie works with some of Rimrock Humane Society, Circle Two Rescue and Tomcat Rescue's animals with behavioral issues.
Credentials:
Certified with the North American Police Work Dog Association
American Kennel Club Canine Good Citizen evaluator
American Kennel Club Temperament Judge
International Association of Canine Professionals – Professional Member
Trainer for the Trainer, Thinking for a Change
Trainer for the Trainer, Women's Needs and Risk
Attended seminars in clicker training, positive-only training, behavioral adjustment training and the healing powers of stones/crystals for dogs
Completed This Able Veteran PTSD Essentials Service Dog Trainer Academy 6/2019
Completed This Able Veteran PTSD Service Dog Trainers Academy 10/2019
Completed Penn Foster Dog Trainer Certification program
Canine CPR Certified
Chelsey Darrow
Missoula Trainer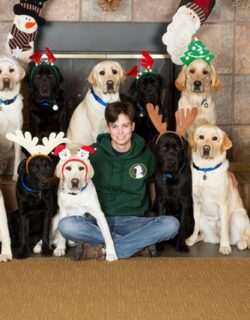 Chelsey was born and raised in Santa Barbara, California (but we won't hold that against her) but calls Montana home. She graduated from Montana State University and was commissioned as an intelligence officer in the United States Army in 2009. Chelsey deployed to Afghanistan in 2011-2012. While she initially intended to make the military a career, she was completely changed by her experiences in Afghanistan. Chelsey subsequently made the tough decision to leave the Army.
Once a civilian she began working with Canine Companions for Independence in Santa Rosa, CA. She went through their apprentice dog training program and became a certified service dog instructor through Assistance Dogs International in 2017. Chelsey has spent the last five years training service dogs for veterans and helped get Canine Companions' PTSD service dog program up and running. She also serves as the Veteran Programs Specialist and supports veterans' programs across the country.
In her free time Chelsey enjoys mountaineering, backpacking, and climbing. Chelsey and her husband hiked the Continental Divide Trail this past summer and they spent as much time as humanly possible in the backcountry. Chelsey is also a volunteer Peer Support Specialist for Wounded Warrior Project in Missoula. She is very excited to be working with Dog Tag Buddies and helping her fellow Montana veterans.
Madie Sanford
Helena and Great Falls Trainer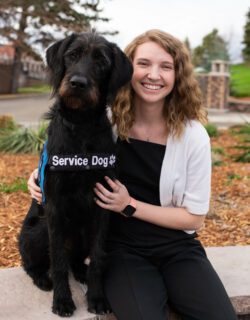 Madie Sanford is our new Helena and Great Falls trainer! She received her Bachelor's in Anthrozoology from Carroll College in Helena, MT in 2019. During her senior year, Sanford co-raised the first psychiatric service dog in her program with the help of DTB. Following her graduation, she earned her Master's in Animal Science at Texas Tech University in 2021, during which she trained seven working dogs to study the environmental effects on canine olfaction. She also studied canine threshold to double base smokeless powder. Sanford started her own dog training business, Bark 4 Joy Dog Training, LLC., in 2018 and is excited to continue this endeavor in addition to being a trainer for Dog Tag Buddies.
Sanford holds significant credentials as a dog trainer, including:
MS in Animal Biology
Certified Professional Dog Trainer through CCPDT
AKC Canine Good Citizens and STAR Puppy Evaluator
Karen Duty
Polson Trainer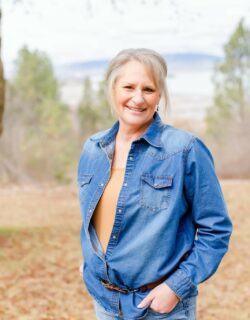 Karen Duty is the owner of Hellroaring Kennels in Polson, MT. Hellroaring Kennels & Dog Training was established in 1998, specializing in early canine development, canine life skills, basic obedience, as well as therapy and service dog skills.
Karen has been training dogs since her childhood, beginning with the local 4-H club in her hometown of Lewistown, MT. She began her professional canine training education by certifying with the Animal Behavior College and also earning the title as an Animal Behavior College Mentor Trainer. Later, she earned the title CPDT-KA (Certified Pet Dog Trainer-Knowledge Assessed) from the CCPDT (Certification Council for Professional Dog Trainers).
Her method of training is more of a technique or art form than any single "method" of training. Contributing factors of this art form are the many different styles of dog training and trainers she has had the opportunity to work with throughout her career. These influences include:
Rick and Ronnie Smith in Bird Dog Training
Don Remien, Rising Sun Retrievers Inc./Retriever Training
Karen Prior, Behavior Management and Clicker-Related Science
Terry Ryan, Legacy Canine Behavior and Training
Gayle Watkins, Avidog International LLC. In Transformational Puppy Rearing and Transformation Evaluation; Recognized as an Avidog Associate
Behesha Doan, This Able Veteran PTSD Service Dog Training Academy
Suzanne Clothier, Carpe Canem – Relationship Centered Training
In the past ten years, Karen has been involved with Pet Partners – Therapy Animal Program and visited and trained several therapy dogs.
Karen has been a member of International Association of Canine Professionals since 2003 and an AKC Canine Good Citizen Evaluator since 2007.
For her, "It's not just about dogs. It's about dogs and their people. My goal is to improve the relationship between dog and owner, with "whatever works" but still following the Hippocratic Oath of "First do no harm." All dogs and their people are different. Finding the right combination that makes it all come together is the key. My system is easily understandable, enjoyable, humane, and effective for all concerned."